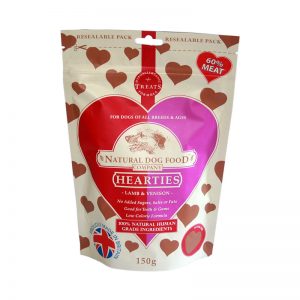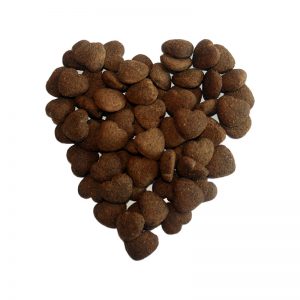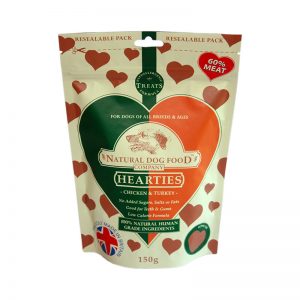 All dogs deserve a treat, and with over 60% fresh meat, our delicious new range is definitely something to wag about! Your dogs can enjoy them as a yummy reward, part of a balanced diet, and even as part of a weight loss programme due to their low calorie content.
At The Natural Dog Food Company we believe that for a happy, healthy dog, nature knows best. For that reason, our treats are made with the highest available quality ingredients and reflect the natural diet of the dog. They contain absolutely no artificial additives, fillers, by-products or derivatives and only contain human grade, fresh British meat.
Packed full of fresh meat in two different varieties, means that any dog can enjoy the choice between Chicken & Turkey, or Lamb & Venison.
Our Fresh  British Chicken is from non-battery farmed higher welfare hens and straight out of the human food chain as is our Turkey, that means no nasty off cuts like the feathers, beaks and feet used by some manufacturers. Our Fresh British Lamb is meadow reared Welsh Lamb from higher welfare farms and straight out of the human food chain. Our Venison is hill reared on rich pasture and also all human grade. We believe this reflects in the health of your dog and you know exactly what goes into your dog's treats.
As with all our foods, our treats are hypoallergenic and do not contain wheat, maize, soya or dairy. Poultry and Red meat are kept separate, with no added oil – beneficial to dogs that may have intolerances to certain meats.
Natural Dog Food Company Treats and other suitable treats can make up as much as 10-15% of your dog's diet. More may be given but care must be taken to ensure a healthy balance is maintained. Always reduce the amount being fed at meal times to allow for any treats.
Comments are closed.